A nude nail polish is so chic.
It's never out of style and perfect for every occasion; a wedding, the office, an event. I love sticking with nudes that have more beige tones, it just looks better on long nails. Nude colors with pink shades tend to look so good on short nails. 
I love acrylic nails. You know why? it's the only way I can keep my nails from chipping. I can't stand chipped nails. I've tried everything from gel manicures, to wearing gloves when doing the dishes and nothing keeps my painted nails looking fresher than acrylics. Honest truth!
Back to nude nail polish, I've lined up some of the most amazing nude polishes. 
Favorite Nude Nail Polish
1. OPI – Act Your Beige:
OPI rocks, this is a light beige. It can appear way darker if you layer it up with more than one coat.
2. Essie – Ballet Slippers:
Light pink tones, the name Ballet Slippers is super cute.
3. Essie – Marshmallow:
Love this color, hints towards grayish tones. A nice off-white gray color.
4. OPI – Samoan Sand:
This nude is gorgeous, really beige. Totally the definition of nude.
5. OPI – Put It In Neutral:
A Pinkish beige.
6. OPI – Bubble Bath:
Perfect sweet pink. Great on a short manicure.
7. Deborah Lippmann – Naked:
One of my favorite colors, this nude is perfect. Great balance of beige tones.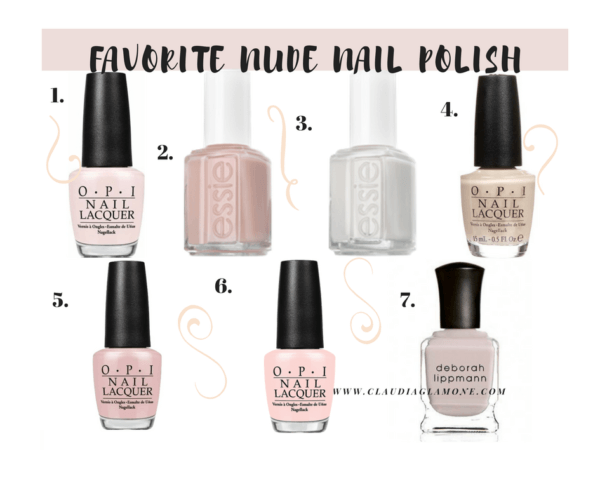 What's your favorite nude polish?
xo
Claudia
* Affiliate links have been used in this post.