Cleansing and hydrating your skin before bed is one of the best ways to keep it looking healthy. The leading cause of premature aging is sun exposure, which can create age spots and other forms of discoloration. It is very important to wear SPF every day. However, you can also cause your skin to age prematurely and have breakouts by not properly cleansing it at the end of the day. Our pores become clogged from layers of oil, dead skin cells, bacteria and sweat that builds up throughout the day. This can cause breakouts, clogged pores and make your skin appear dull. 
I do have to admit, I use to be that person too tired to wash my face at night, I use to remove my makeup and go to bed. But, I've come a long way and my skin has totally transformed for the better because of this. Overall I no longer have any dark spots and my skin looks plump and clear. Check out a morning skin care routine here for more tips.
1. Remove Makeup: CeraVe Makeup Remover Cleansing Cloths
Removing your makeup completely before bed is extremely important. Any left over dirt or makeup can really clog your pores and cause breakouts. Clean skin before bed is a must. If you do not wear makeup this step can be skipped.
2. Cleanse Face: CeraVe Gentle Hydrating Cleanser
After removing all your makeup with a facial wipes, its important to wash your face completely and get rid of any residue left from the wipes.
3. Use a Toner: Thayers Witch Hazel Alcohol Free Toner
A toner removes any dirt, traces of makeup or oils left in the skin.  I have talked about my favorite alcohol free toners before and why they are much better than ones with alcohol. If you did not wear makeup this step can be skipped. If you have super dry skin it's best to use an alcohol free toner.
4. Eye Cream: Elizabeth Arden Flawless Future Eye Cream
I love using an eye cream a couple of times per week because it hydrates that sensitive area under our eyes, while providing a smoother complexion. I love this eye cream because it contains Ceramides which have fatty acids to help skin retain its moisture. This eye cream goes a long way, I have been using this product for almost a year and totally recommend it.
5. Facial Serum: Nip + Fab Dragon's Blood Fix Plumping Serum
Many serums are lightweight but they contain much higher concentrations of ingredients than your regular moisturizer. My skin feels hydrated and soft right after application. Perfect for using a couple of times of week, especially when your skin feels dry and in need of a hydration boost.  With ingredients like hyaluronic acid which plump and hydrate the skin while making it appear more youthful. If you have oily skin this step can be skipped.
6. Moisturizer: Olay Regenerist Micro-Sculpting Cream (No SPF)
Olay Regenerist Micro-Sculpting Cream moisturizer with Hyaluronic Acid hydrates and plumps skin. It does an amazing job at keeping skin supple and soft for hours while you rest and rejuvenate in your sleep. It fixes the appearance of fine lines and wrinkles. I also have used Thomas Peter Roth Water Drench Hyaluronic Cloud Cream and Elizabeth Arden Flawless Future Moisturizer Nighttime which are two of my favorites.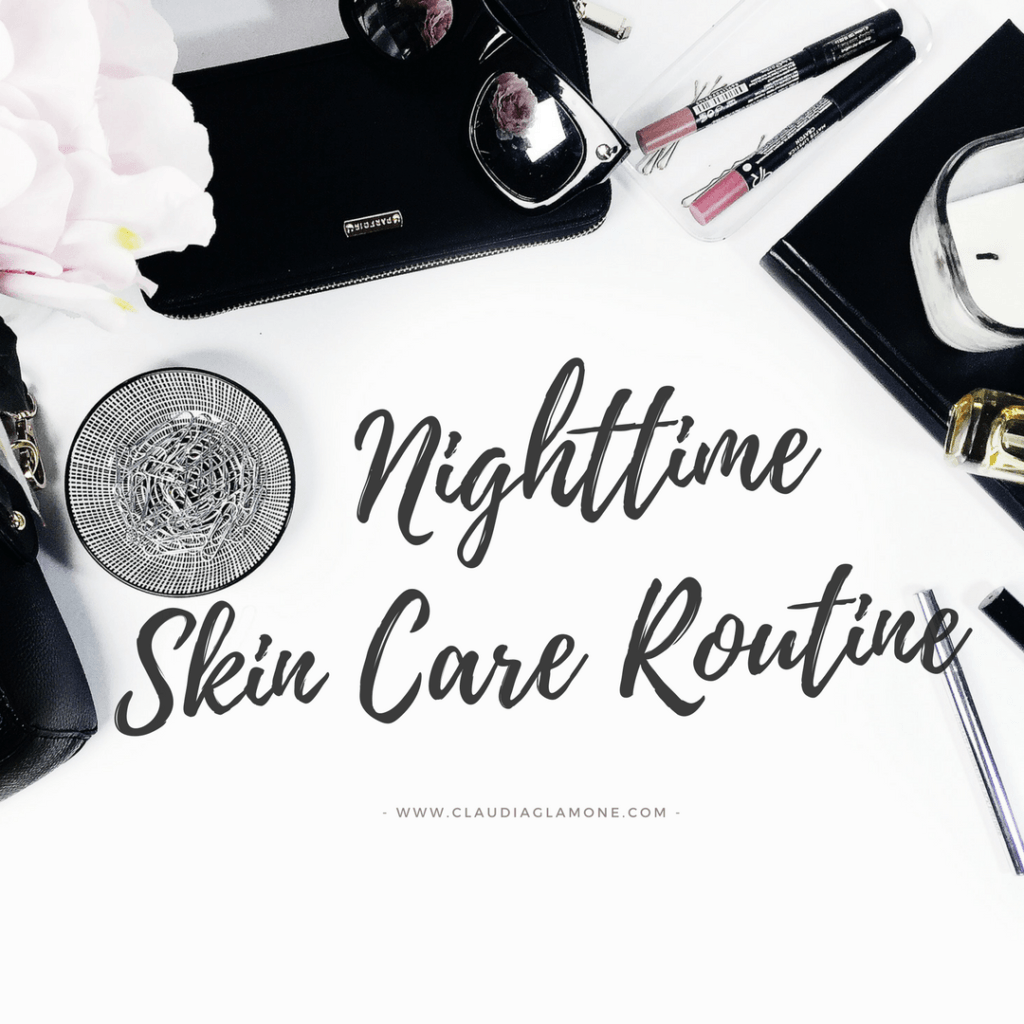 Shop All My Nighttime Skin Care Routine Products:
image source: oldandberry.blogspot.com
* Affiliate links have been used in this post.