I've recently been adding collagen powder to my drinks and I'm obsessed.  I've just purchased the Neocell Super Powder Collagen  and I've noticed  how many positive reviews this product has, I couldn't wait to try it. I only drink it 2-4 times a week with water or by mixing it into my green juices.
There are so many beauty benefits of drinking collagen powder, I can't wait to try a collagen protein powder with more grams of protein than the Neocell Super Powder Collagen. Drinking collagen powder has been said to improve the appearance of  skin and hair, while strengthening nails and much much more. Learn more about collagen Here and Here.
I have also purchased the InstaBroth, Collagen and Gelatin Rich Bone Broth Powder which I am extremely excited to try and will be reviewing soon.
There are so many wellness and beauty related benefits to drinking a natural green juice smoothie so why not mix both.
I love making my own smoothies at home and decided to share this really easy collagen powder recipe I'm loving right now. 
Neocell Beauty: Hair, Skin & Nails
+ Helps minimize fine lines & wrinkles.
+  Improves elasticity & hydration in the skin.
+ Strengthens weak & damaged nails.
+ Thickens fine hair & adds body.
+ Increase skin firmness and hydration
Green Juice Benefits:
+ Filled with antioxidants
+ Phytochemicals
+ Vitamins and minerals
+ Boost immune system
+ Chlorophyll
+ Helps your body detoxify
+ Fiber
+ Omega-3 fatty acids
+ Protein
+ Iron
+ Calcium
+ more
Why Make a Green Juice?
+ Helps you get your daily serving of veggies, fats, fruits, protein
+ Easy and on the go
+ Overall energy and healthy glowing skin
+ Keeps my immune system in check specially when you lag on sleep
Collagen Green Juice Smoothie Recipe: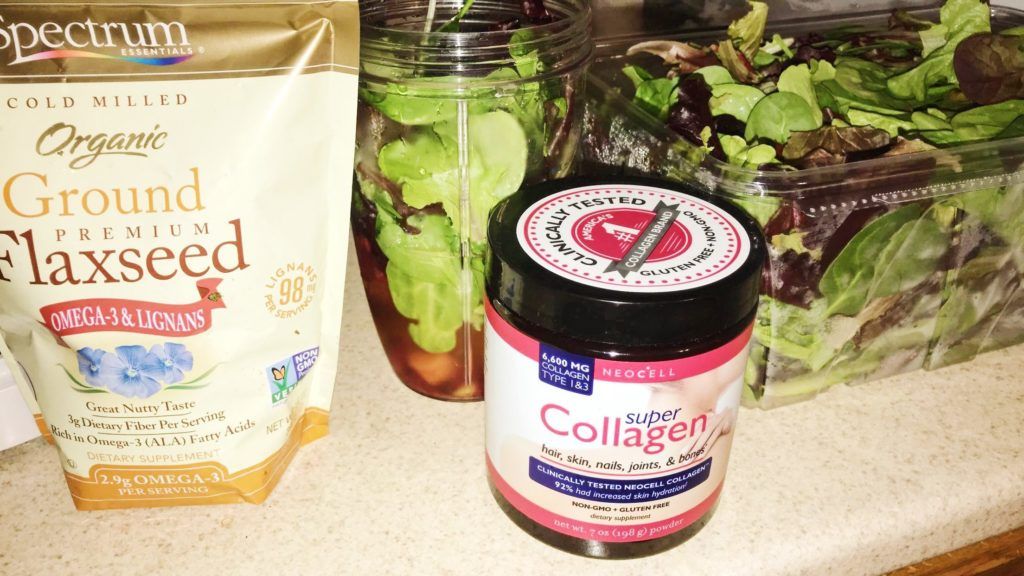 1 cup mixed green (spinach,  arugula, chard, kale)
1 scoop Neocell Super Powder Collagen
1/2-1 cup organic frozen fruit
½ squeezed lemon
1 tablespoon  Spectrum Essentials Organic Ground Flaxseed
1 cup Water
+ ice if preferred
Blend it all using a NutriBullet and enjoy.
You can refrigerate this drink for 1-2 days.  You can also adjust portions to your liking or replace the flaxseed with another good fat like powdered peanut butter or chia seeds which contains omega-3 fatty acids, iron, fiber, calcium, protein and more.  If you want less calories opt out for no fruit. I usually create the smoothies the night before and keep them refrigerated for the morning.
Shop The Post:
I am not a nutritionist so please always check with your doctor before trying out any supplements. Any questions you may have concerning your use of supplements should be directed to your healthcare professional.  The information provided on this site is for informational purposes only and is not intended as a substitute for advice from your physician, dietitian or other health care professional.
* Affiliate links have been used in this post.