Hi guys,
Welcome back! Let's talk face masks and charcoal. k?
So we seen it everywhere nowadays activated charcoal being used as a teeth whitening, a mask and for so many other weird things. While I wouldn't try the activated charcoal as a tooth paste (yuck..well I'll ask my dentist first) I have tried the activated charcoal masks.
Not going to lie, I was a bit scared to try these masks, I read some people with super sensitive skin have had a reaction to them.
My skin is not super sensitive..but I'm always careful since is super clear and healthy already. 
Clear Improvement Active Charcoal Mask to Clear Pores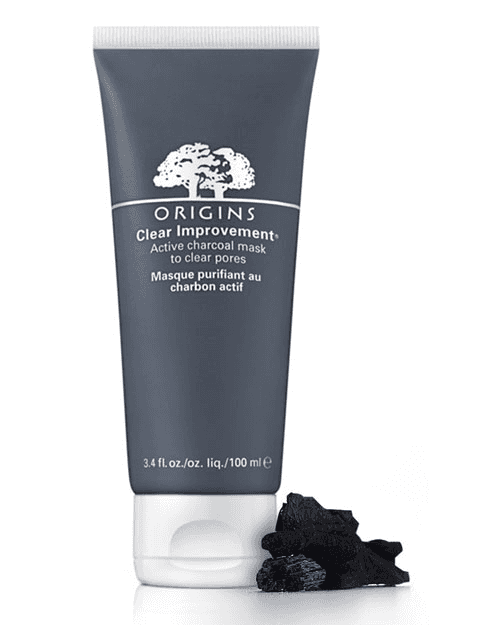 Product Claims: "Nature's complexion clean-up crew clears the way for skin to act its best. Bamboo Charcoal acts like a magnet to draw out deep-dwelling pore-cloggers, White China Clay absorbs environmental toxins, Lecithin dissolves impurities. Skin looks clear, feels perfectly pure." – Origins
The first mask I tried is the Clear Improvement Active Charcoal Mask to Clear Pores by Origins. I only needed a small amount, which I used to spread all over my face. While it felt refreshing on the skin, it took a bit to start drying. I left it on for 20 minutes then I washed it all off. My skin felt super soft and clean. I seriously felt like this did some deep cleaning on my skin.
The mask did not remove any of the blackheads on the tip of my nose, which was a little disappointing.
ClariSEA Sea Salt Solutions Deep Pore Detox Charcoal Exfoliating Mask
Product Claims: "This all natural powder mask helps clear up skin and unclog pores while giving you an instantly refreshed look. A supernatural burst of Activated Bamboo Charcoal, Kaolin Clay and Organic Calendula latches on to the dirt and oil in pores, clearing away blackheads and lurking breakouts.

Our clarifying sea salt brew is blended in with the clay base. The powdered salt crystals gently exfoliate as you apply the mask and then gradually dissolve into skin to help heal and clarify as the mask dries." – ClariSEA
Another mask I tried was the ClariSEA Sea Salt Solutions Deep Pore Detox Activated Charcoal Exfoliating Mask. This mask comes in the form of a powder, which you mix with water. It drys really really fast. I rinsed it off after 10 minutes.
This mask felt a little tight on the skin. Once I washed it off, I had a small red bump on my forehead. ummm…Maybe my skin didn't like this mask too much. Once that little bump disappeared (on its own), my skin felt good, nice and clean.
Not sure how I feel about this mask, I probably will not use it again. Hello!!!! the little bump (allergic reaction, whatever it was…um that's a NO..NO)
Boscia Luminizing Black Mask
Product Claims: "An innovative peel-off mask that helps boost skin clarity and minimize the appearance of pores. Removes dirt and impurities, absorbs excess oil and reveals a healthy, glowing complexion.Peel to reveal pore-perfected skin with the trendsetting Black Mask!" -Boscia
The third mask I tried was the Boscia Luminizing Black Mask 2.8 oz. You have to use a lot of product in order to be able to peal the mask off. Avoid your hair line…omg! or  you will peal off your baby hairs and it will be painful. I left this on for 30 minutes, then pealed it off and cleaned the rest of my skin with warm water.
This was such a good mask for the blackheads on my nose, I'm obsessed. Something about pealing the mask off after it dries, is so satisfying. Weird!
Seriously loved this mask!
My skin felt so refreshing, soft and clean. This Mask is truly my top pick. Yess Boscia! 
Final Thoughts!!!
Is good to test a small amount on the skin before applying the entire mask to make sure your skin can handle it.
I do the masks at night!
I make sure my skin is crisp and clean and all makeup must be off before applying these masks. I love moisturizing my skin right after I use the masks. 
xo
Claudia
* Affiliate links have been used in this post.