I'm addicted to eye patches!
I've talked about eye patches before in my previous post, (check out here and here) all about high end and low end eye patches. I wanted to talk about my new holy grail in eye patches. That's the Peter Thomas Roth Cucumber De-Tox Hydra-Gel Eye Patches.
This product is perfect if you usually wake up with puffy under eyes. The individual patches come with a small scooping spoon which helps you lift each individual eye patch. The jar brings a good amount of patches (60 pads) so you are totally getting your moneys worth.
Benefits:
Cucumber Extract – helps to nourish, hydrate, comfort, soothe, calm and de-puff the appearance of skin.
Aloe – helps calm and hydrate the appearance of skin.
Chamomile – helps calm and hydrate the appearance of skin.
Allantoin – helps soothe and calm the skin.
Arnica – helps calm the look of skin.
Hyaluronic Acid & Glycerin – humectants that help soothe and hydrate skin. Hyaluronic Acid helps improve hydration by attracting and retaining up to 1,000 times its weight in water from moisture in the air.
Hydrolyzed Collagen – helps provide and retain moisture
Caffeine – helps tone and condition the appearance of skin and reduce the look of under-eye puffiness.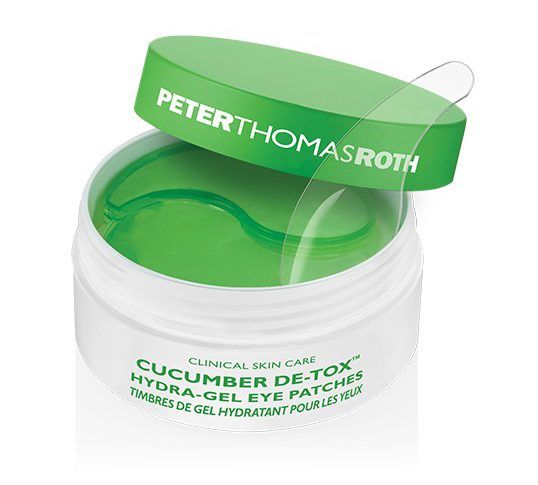 Keep these eye patches in the fridge – What's more soothing and refreshing then putting a cool patch under your eyes. Keep these in the fridge or pop them in the night before and it will definitely feel amazing on your skin in the morning. The cool compression will help de-puff your eyes even more.
I totally recommend this product because it helps so much with puffiness, perfect after a late night or a long flight. You will notice a difference under your eyes, your skin will feel hydrated and look more plump. Active ingredients like Hyaluronic Acid and Glycerin keeps skin plump and hydrated and looking young. I have also noticed the dark circles under my eyes have totally gone away.
Shop the Post:
* Affiliate links have been used in this post.