There are steps one should never skip when it comes to makeup application and those are concealer, brows and setting your foundation with a good powder.
Setting your makeup is extremely important for a flawless fool proof finish. If you're not a fan of 'Baking' your makeup (the process of letting the powder, usually translucent sit on the highlighted parts of your face for 1 minute/more or less) you must at least set your face with a powder so your foundation and concealer don't melt off as you go about your day.
On my busy days when I don't have a lot of time to get ready, I set my entire face with a face powder, I'm currently using The Maybelline Shine Free Oil  Control Loose Powder in light . This powder works perfect for me, stays in place, keeps my face matte all day and I like the small hint of color. This is my everyday powder which I apply with a powder brush, I have repurchased this 2x, and I love it.
When I'm prepping my makeup for an event or a long day and I want a nice flawless finish I set my face and I bake under my eyes and below my cheekbones using Laura Mercier Translucent loose setting powder. As much as we love high end makeup is good to mix and match with dupes in order to save your wallet. Let's be honest makeup can get expensive. Here are some awesome drugstore setting powders that are great dupes and work fabulously.
Looking for the best drugstore foundations? check out my previous post here.
Best Drugstore Powders for Baking & Setting your Face
Elf HD Setting Powder $2.99 – $6.00:
The Elf HD Setting powder is translucent so is perfect for baking under the eyes. This is a good dupe for a translucent powder.
Airspun $5.00 – $8.00:
This is totally your grandmother's powder. The Aisrpun powder has been around for years and now it has been getting a lot of attention. This powder is perfect for baking, the smell is a bit strong but it works wonders.
RCMA Makeup No Color Powder $12.00:
This powder is not technically a drugstore powder but for it's price range it can fall into that category. Perfect for baking and absolutely no color so it can be used to set your entire face is preffered. I love  that it does not change color when applied over concealer or foundation. Price on the official website is only $12. Great smooth natural skin finish and last for hours, I think this is a great dupe for the Laura Marcier powder if you are budget conscious.
NYC Loose Translucent Powder $2.77 – $3.00:
This is a great lightweight powder. Perfect for super oil skin. The powder does emphasize fine lines a little bit under the eyes but its a great inexpensive setting powder.
NYX HD Studio Finishing Powder $10:
The NYX HD Finishing Powder Besides having a light scent, this powder works great as a baking powder or as a setting powder for your overall face.
Maybelline Shine Free Oil Control Loose Powder $4.94 – $5.99:
As mentioned before, the Maybelline Shine Free Oil Control Loose Powder is one of my favorites. I have been using this powder for 2 years and absolutely love it. Stays in place, maintains your face shine free all day long. I use this in the light color and I like the subtle hint of color. I use this powder all over my face as a setting powder.
Maybelline FaceStudio Master Fix Setting + Perfecting Loose Powder $7.00 – $8.99:
The Maybelline FaceStudio Master Fix Setting + Perfecting Loose Powder has a great finish and works to bake under the eyes. It gives a natural finish and last all day. A tip is to not bake with it or too long to not get flashbacks in photos.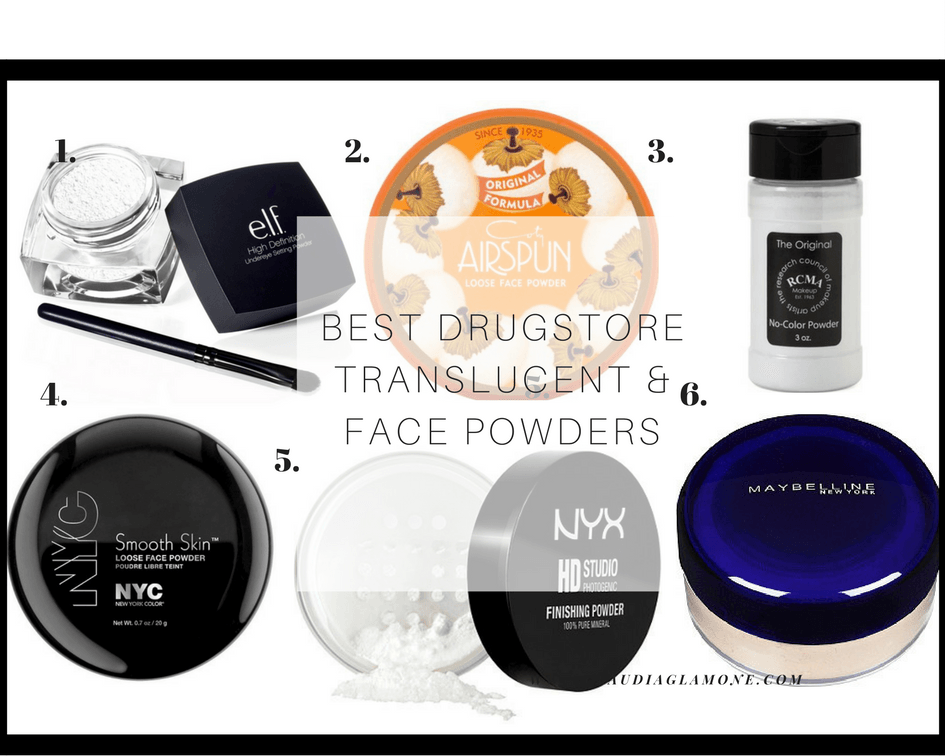 Do you guys have any favorite drugstore translucent powders?
xo
claudia
Shop the Post:
* Affiliate links have been used in this post.