Let's talk Argan oil, ok?
You guys know my loyalty to coconut oil, but I've jumped on to the Argan oil bandwagon and I haven't looked back.
I been hearing about all the benefits of Argan oil and decided to try it.
I've been using it for months now as a scalp treatment, by applying 100% Argan oil to my scalp day/night and also to my overall hair, especially the ends.
Now, I'm using Argan oil a couple of times a week on my face before bed, focusing on the under eye area.
I've found out this oil can be used for so many other things, I literally couldn't wait to share it with you guys. 
What the heck is Argan Oil?
Argan oil is a plant oil, it comes from the kernels of the Argan tree.
Like coconut oil, it can be used for almost anything, especially your beauty regimen. I been using it for months and I'm literally obsessed. 
Argan Oil has amazing properties, here are some details:
Scar tissue: Argan oil has been shown to reduce the look of scar tissue. It helps heal the skin and make the scars less visible. Argan oil helps with the elasticity of skin so is perfect for preventing stretchmarks and disappearing the appearance of current ones.
Healing acne: Argan oil helps heal acne scars as well as work on reducing further breakouts. The antioxidants in the oil help remove damaged cells and help new ones grow.
Anti-Aging: Argan oil helps the skin maintain its elasticity. All the natural ingredients and fatty acids help heal the trauma we put our skin through on the daily. Argan oil has been found to help the skin repair itself. It also hydrates the skin which gives you a more youthful appearance.
Sunburn: Argan oil helps sooth a sunburn. It's important to protect the skin against the sun. If you do get a sunburn Argan oil will help with soothing and healing of the skin. The fatty acids and Vitamin E will help moisturize that dry damaged skin. 
How to use Argan Oil on overall skin:
Nighttime Moisturizer:
I'm currently using Argan oil to deeply moisturize my skin. I used the oils as a night time moisturizer once the skin is totally clean. The oils absorb super quick, without ever getting the skin extra greasy.
Remove all makeup and wash face with a gentle cleaning solution or exfoliate the skin after makeup removal.

Apply 1-2 drops to your skin using a soft tapping motion.
I love focusing on the lips and the under eye area.
Lip Exfoliator:
I'm getting tips left and right that I need to be exfoliating both face and body often and I mean OFTEN! But who knew you can use Argan oil to create an at home lip exfoliator? 
Add a little bit of brown sugar to a few drops of Argan oil.

Mix it in well.

Apply it to your lips in a circular motion, like a scrub.

Rinse with warm water.

Pat dry.
Add a bit of Argan oil by itself to the lips to renew moisture. This really comes in handy in the winter months.
Whole Body Moisturizer:
I seriously love applying a few drops of Argan oil to some super dry places like my elbows. I also add some moisture to my feet and cuticles.
Argan oil also helps with scar tissue, it helps improving the look of scars. Mix it into your lotion and apply it anywhere you see any type of scars or stretch marks.
Shop Awesome ARGAN Oil Products:
How to use Argan Oil for hair:
You guys know I'm really into hair products, conditioners, hair masks. Anything to get shine and health back into my strands. (Check out my previous posts, all about the best conditioners for Blonde hair.)
This is where Argan oil really comes in handy.
Scalp Moisturizer:
I add a couple of drops of Argan oil to my scalp to keep it nice and moist. Since I'm always treating my hair with bleach, I feel my scalp could use some EXTRA moisture.
Add a few drops to the scalp.

Massage into scalp.
Hair Serum:
A couple of drops of Argan oil goes it long way. Use a couple of drops on wet hair before styling or using any heat products. It totally adds shine and works as a hair serum.
Deep Conditioning:
For super dry hair ONLY, you can use Argan oil as a hair mask.
Add a lot of Argan oil to your hands and rub your hands together to warm up the oils.

Apply it all over the hair, REALLY soak up the hair in the oils.

Add a head cap and leave it on for 40-60 minutes (or overnight if possible).

Wash it out and you're done.
If I've put a lot of stress on the hair that week, I make sure to do this oil treatment or do a co-wash (where you only wash your hair with conditioner) and my hair feels great. Nice and moist.
I love, love, love Argan oil right now. These are the three brands I have been using. Anything with Vitamin E for your face is a plus!
Shop the Post: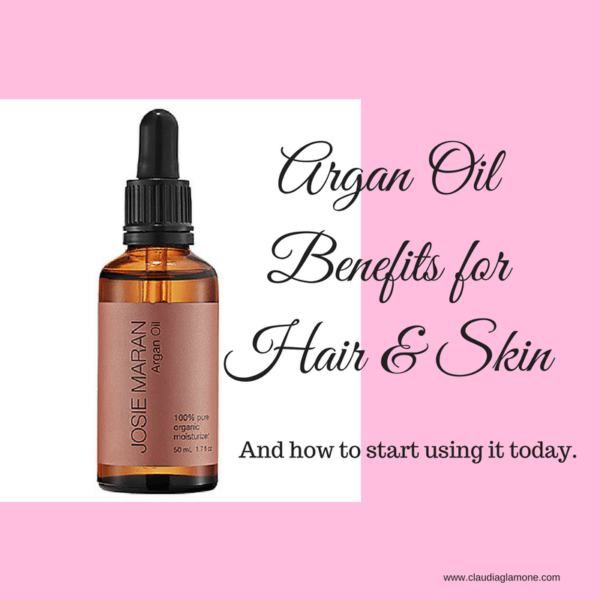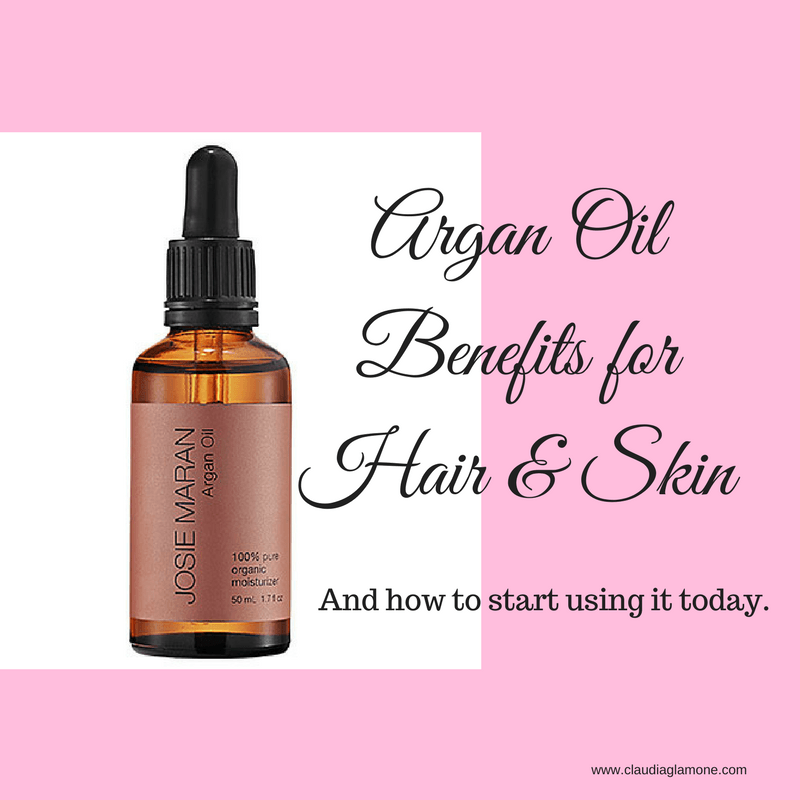 xo
Claudia
* Affiliate links have been used in this post.