Let's get real!!!!
Bleached blonde hair is a pain in my butt. I have colored my hair since..high school and I have never looked back. I love it!
As you know all color treated hair gets damaged, but when you have dark hair and make it lighter you are literally stripping away the color out of your hair.
This is 1. SO DAMAGING and 2. SUPER DRYING.
Seriously, if you want those bleach blonde locks get ready to hustle. Is really "work" to maintain.
BUT, don't let it discourage you from having lovely blonde locks! 
Never attempt to color your own hair if you are going lighter. Always go to a professional, believe me been there done that. Once you have those gorgeous locks, you can use the products below to maintain and protect your new color.
Purple Shampoo: This is literally the best thing to get the brassiness out of your hair. This take that orange-yellowish out of your hair. I usually don't use it every time I wash my hair because is sooo drying. Make sure to condition your hair really well after the purple shampoo, because this thing really needs that moisture after to make it better. I love using Clairol shimmer lights.
Hair Mask: A hair mask will nourish and bring life to your hair. Blonde colored hair gets really dry. I do a mask at least once a week. Gives my hair shine and keeps it looking strong. Anything with essential oils will do the trick. I lovesssss me some coconut oil, aloe, moroccon oil. I'm currently using TREseme Botanique Nourish and replenish. From time to time I use some old school Dominican products I get from a local beauty supply. Find what works best for you and what leaves your hair feeling hydrated. If I have no time, I use the Aussie 3 Minute Miracle and I'm done.
Heat Protection: This one should be numero 1. Heat is so damaging I know I know, I just can't stop with the flat iron…..if you are addicted to the flat iron (this is not something we should be proud of ladies ) then getting a heat protectant is a serious must. This will protect your hair as much as possible from over frying and damaging — gosh I know I need that! The choices are endless for heat protectors, I like TREsemme heat protectant…..I've use this for years, is AWESOME.
Glossy Serum: Always finish a blowout with a glossy shine serum. This locks your hair in so you don't get that annoying frizz and flyaway. It also adds shine. I like John Frieda Frizz Ease line.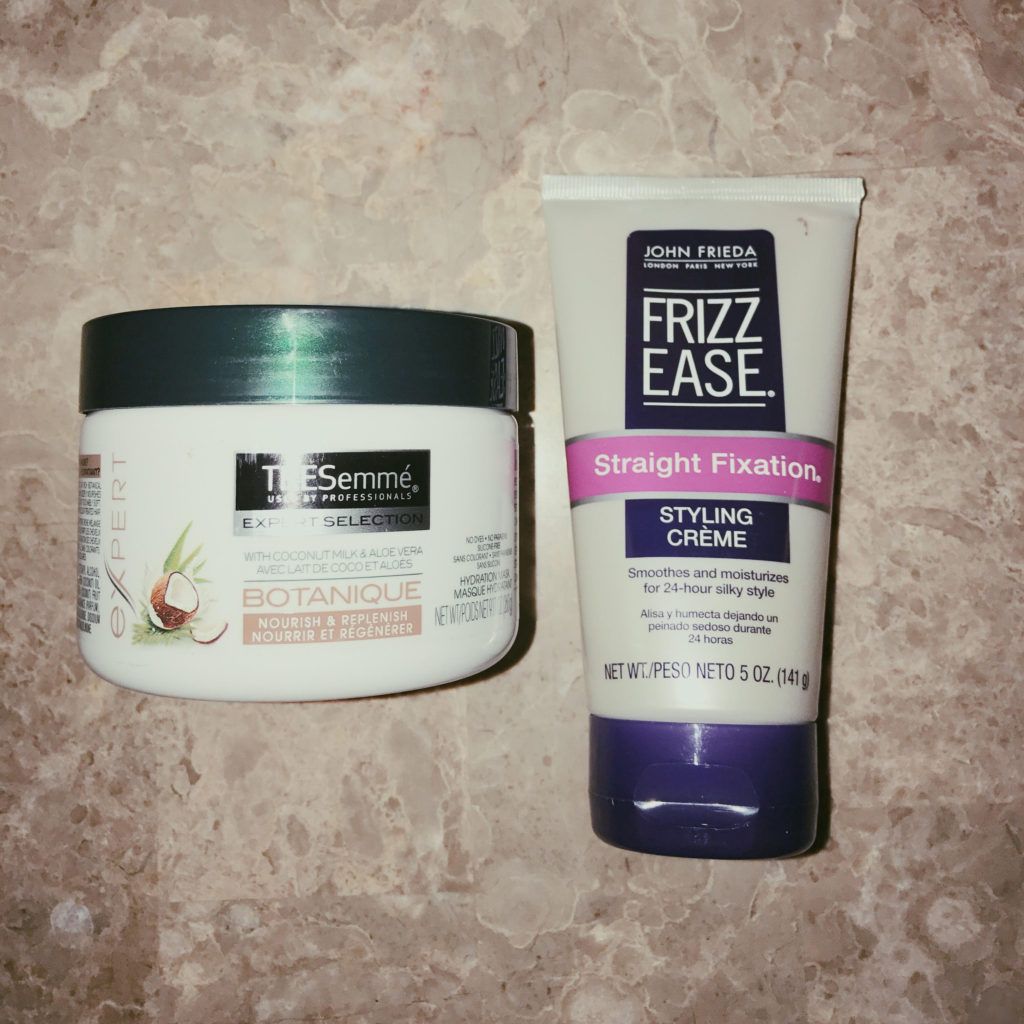 Try these tips loves and let me know what you think! 🙂
– xo Claudia
Shop the Post:
Mom's Go to Products I Still Use:
* Affiliate links have been used in this post.