I hope you guys enjoy today's post, from my friend Fenix! Let us know what you think! 
Hi Ladies, Fenix here. Just wanted to give you a quick rundown on natural hair products. I know maintaining your hair in its natural state can be daunting, but the end result is sure worth it. Every naturalista knows these are the essentials in getting started on their natural hair journey.
Shampoo/Conditioner: I've tried about half a dozen shampoos/conditioners but I always seem to go back to Tresemme. It's their botanique line and they are sulfate and silicone free, which is great for your fragile strands.
*Tip* Don't rinse out all of the conditioner at the end.
Styling: My absolute favorite styling product hands down has to be Shea Moisture Curl Enhancing Smoothie. It nourishes my hair, smells divine, and does the job. Some may say that it weighs their hair down but this may be because they're using too much product. A little goes a long way with this cream.
*Tip* Always try this with your hair damp or wet. I prefer to put it on wet hair but to each their own.
Seal: Say it with me, Coconut Oil. Coconut Oil, Coconut Oil. Like the meme goes, "If you're life needs fixing: Coconut Oil". This will help seal in the moisture from your styling product. *Tip* First rub the oil on your hands for 30 seconds to warm it up.
Hold: Eco Styler Olive Oil gel is by far the most economic option that can still hold up to its more expensive counterparts. It's non-drying and not crunchy at all so you'll get that great hold while still maintaining some softness. *Tip* Always stick to alcohol-free gels like Eco Styling Gel with Olive Oil 24 oz.
Dry: If you're really trying to stay away from all heat then you could air dry. Air-drying tends to leave the hair rather flat so I choose to dry my hair with a large diffuser. *Tip* Keep the setting on low heat/medium speed.
Xoxo Fenix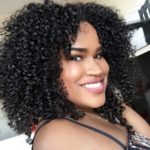 Fenix gave up direct heat on her hair and has been natural for 4 years.
Shop the Post:
* Affiliate links have been used in this post.